Hotel ready to open, extended-stay suites planned near busy Colorado Springs corridor
A New Mexico development company that's poised to open one hotel on Colorado Springs' north side plans to build a second nearby.
Sun Capital Hotels of Albuquerque will open its four-story, 101-room Hampton Inn & Suites at 1060 Kelly Johnson Blvd., near the Chapel Hills Mall, in about 30 days, said company president and CEO Deepesh Kholwadwala. The hotel was proposed in 2017 and has been under construction for more than a year.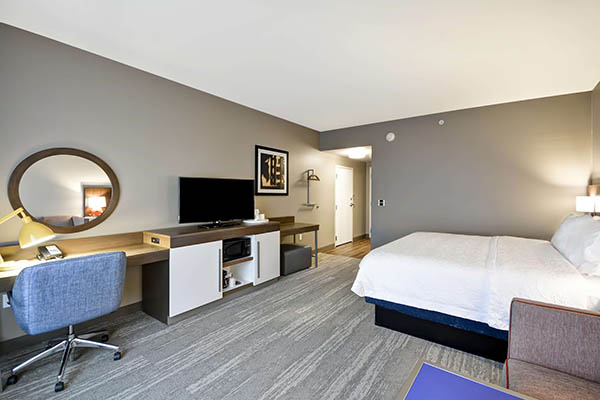 Now, Sun Capital has submitted a proposal to city government planners that calls for construction of a four-story, 90-room TownePlace Suites by Marriott at 1230 Kelly Johnson. The company has contracted to buy the 1.6-acre site and expects to compete the purchase within the next week, Kholwadwala said.
Construction of the TownePlace Suites, an extended-stay brand that appeals to business and leisure travelers, won't begin until late 2022 and the property would open in 2023 or early 2024, Kholwadwala said. Its cost, including construction and land, will be close to $10 million, he said.
As business and leisure travel plunged last year because of the COVID-19 pandemic, hotels nationwide struggled to fill rooms.
Colorado Springs hotels enjoyed relatively strong occupancy rates in the summer and early fall, yet bookings were dismal over the holidays and early winter, according to hospitality industry reports.
Despite the industry's ups and downs, Kholwadwala said his company is bullish on Colorado Springs' economy and its hotel market.
"The fundamentals in Colorado Springs are looking pretty good," he said. "Even last year, when most of the economy across the nation was doing bad, Colorado Springs had a pretty good summer last year."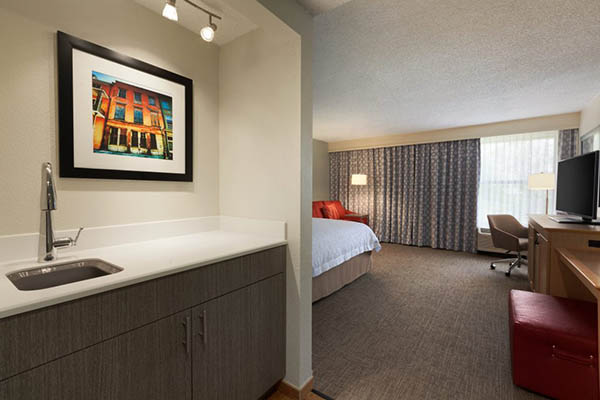 Before the pandemic, hotels in the Springs saw rising occupancy rates, which translate to increasing room rates, he said. That combination is attractive to hotel developers.
At the same time, Kholwadwala said growth around the Colorado Springs Airport, a revitalized downtown, an expansion of the local medical and health care industries and surging commercial areas such as InterQuest on the far north side all will combine to generate more demand for hotel rooms.
Kelly Johnson Boulevard, meanwhile, is attractive because it's set back from Academy Boulevard in northern Colorado Springs and is a short drive from Interstate 25, Kholwadwala said. It's home to apartments, offices and hotels and near the Chapel Hills Mall and restaurants and stores along Academy.
"We like convenient access to the freeway, but we don't want to be right on the freeway," he said. "Our guests, just like everybody else, want peace and quiet when they get into their rooms."
With offices and other businesses along Kelly Johnson and near the area, the TownePlace Suites should appeal to a variety of travelers, he said. Its extend-stay amenities include in-room kitchens, on-site laundries and fitness centers.
Something else that Sun Capital liked about the Kelly Johnson corridor — lower taxes, Kholwadwala said. There are no special districts in the area, which typically are put in place by developers as part of new commercial and residential projects. Those districts levy an extra property tax to fund infrastructure work.
Sun Capital will consider a third hotel in the Springs market, though it will want to see how its Hampton Inn and TownePlace properties perform, he added.


For more info: https://www.leadville.co/hotel-ready-to-open-extended-stay-suites-planned-near-busy-colorado-springs-corridor/

About Newspace Hospitality
We are able to design and manufacture contract casegood and furniture in accordance with the design standard of Hampton Inn and Suites. The surface finish can be HPL or veneer stained as per Wilsonart HPL color and texture to meet the franchise requirement. The fabric/vinyl for headboard upholstery, lounge chair, chaise sofa and sleeper sofa can be COM or our fabric/vinyl.

To learn us more
https://www.newspacehospitality.com

Latest News
Contact Us
Mobile: +86-18750258798

E-mail: [email protected]

QQ: 2871883861

Add: Unit 825-827 Kaisheng International Hailian District Shuitou Town Nanan Quanzhou City Fujian Province China